NEW TURKEY CLASS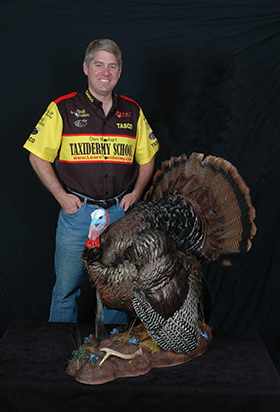 Our NEW TURKEY CLASS sets a higher standard for PROFESSIONAL Turkey Taxidermy Training! ALL the PROFFEIONAL techniques that you need to perform quality turkey taxidermy will be covered. You will perform every step throughout the process of mounting your own turkey in a strutting pose. Once you have mounted your own turkey, the instructor will mount a flying turkey so that you can see and ask questions in-person throughout the process. We only offer this class twice a year – so choose you date and reserve your spot! Call 608-884-3047 or 1-866-296-2782
NOTE:
THIS CLASS WILL FILL QUICKLY ENROLL NOW!
Order A Free Catalog/Brochure
Download Enrollment Form
---


Dan Rinehart's 63,000 square feet of World Class Taxidermy Training & Supply Facility
Dan's new taxidermy training/supply studio provides over 63,000 square feet of taxidermy training, supply storage and endless research and development. In 1912 the heart of the tobacco industry was located in Edgerton, Wisconsin. Giant warehouses were built on solid brick foundations with massive timber interiors. Today, the Biggest of the BIG warehouses is the new home to Dan Rinehart Taxidermy School and Studios. This beautiful building combines a historic-rustic atmosphere with a state-of-the-art taxidermy school and supply production facility. Come visit us and enjoy the history of yester-year and the most advanced supplies and techniques of today!

Only a few weeks earlier these students had never done any taxidermy. Today they are professionals!

This student entered the Dan Rinehart Taxidermy School with zero experience. These are just a couple of the professional mounts he accomplished & took home for his professional display.