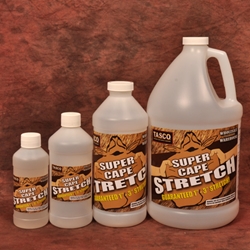 I AM HAPPY TO PRESENT YOU WITH A NEW AND REVOLUTIONARY PRODUCT THAT SOLVES AN AGE-OLD PROBLEM IN TAXIDERMY - NO CAPE STRETCH! AFTER EXHAUSTIVE RESEARCH AND TESTING WITH INDUSTRY-LEADING TANNING CHEMISTS, "ULTRA CAPE STRETCH" GUARANTEES AN EXTRA CAPE STRETCH OF 1" - 3" AFTER A 15 - 30 MINUTE SOAK. AS TAXIDERMIST, WE ALL KNOW THAT AN EXTRA 1" - 3" OF CAPE STRETCH SOLVES 99% OF CAPE FITTING PROBLEMS.
DIRECTIONS:
1. MIX 3 OZ OF SUPER CAPE STRETCH WITH 1 GALLON OF WATER.
(FOR MULTIPLE CAPES- MULTIPLY AMUNTS BY NUMBER OF CAPES)
2. SOAK DEER CAPE(S) IN MIX FOR 15 - 30 MINUTES.
3. REMOVE CAPES FROM MIX AND QUICK-RINSE (APROX 1 MINUTE) IN COLD WATER
CAPE IS READY TO MOUNT
Super Cape Stretch