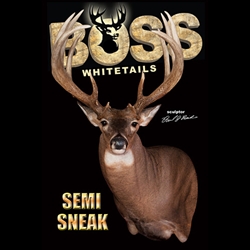 BOSS SEMI SNEAK
Offset Shoulder w/Pre-set Eyes and C.A.D. Nostrils!
DOMINANCE is the word that describes the NEW BOSS Semi Sneak whitetail Series. This Semi Sneak whitetail series offers a beautiful offset shoulder that creates ACTION with a highly MUSCULAR anatomy! Each BOSS Semi Sneak whitetail presents your mount in an attitude that says "I'm the BOSS"!
NOTE: ALL TASCO BOSS manikin include PRE-SET eyes and C.A.D. Nostrils!